In the exhibition, there was an exhibitor's machine surrounded by visitors. The machine that attracted so much attention was porcelain Ruike.
from Sinotech
It can save patients time and improve the fit "SRC =" http://www.familydoctor.com.cn/uploads/UploadFiles/2013-3/201334161731522.jpg >
exhibition scene
Once upon a time, a patient needed to make all ceramic teeth. He needed to go to a doctor to prepare teeth. Then he made a model and sent it to a processing factory to make all ceramic teeth. Then he installed all ceramic teeth in his mouth. It would take a week at least, but with ceramic incisions, many steps could be saved
Cerec all ceramic teeth drawing
When you go to the stomatologist's office, you can get the quadrant image of the mouth quickly through Cerec bluecam. Cerec bluecam is easy to operate.
, even for novice users, you can quickly use the system to make a highly accurate impression.
This small camera can directly aim at the oral cavity to take photos, even for the cavity of the posterior tooth area, it can also effectively complete the photo taking work.
and Cerec bluecam can achieve 19 microns accuracy, which uses the highest definition and accuracy of blue light intake in unit time.
in use of Cerec After bluecam presents the image of the oral tooth condition, a virtual three-dimensional model is established through professional Cerec software. For the tooth positioning to be modified, doctors can modify the virtual teeth through Cerec, and then draw the edge line of the preparation kick, and then connect with the ceramic Rui engrave to carve all ceramic teeth.
Before making, we can know the scheme of tooth carving and its shape features. If there is something wrong, we can modify it After the shape and details of all ceramic teeth are determined, they can be transferred to ceramic Rui carving, and then they can be carved. The carving time of each tooth is about 10 minutes. Generally, it takes only 2 hours to complete the whole process of all ceramic tooth restoration from medical treatment to going out of the hospital.
ceramic ruicarving is also the only chair side immediate repair equipment selected by the doctor's clinic in China
Dr. Wu's model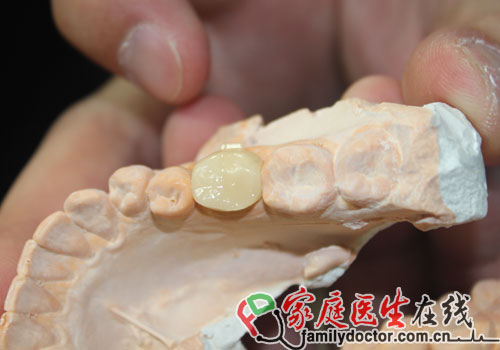 All ceramic teeth made by ceramic Rui carving are very suitable
At the side of the machine, a doctor Wu from Guangxi borrowed the machine on the spot to make an all ceramic dental mould with a patient's bad oral condition. The doctor's evaluation of ceramic Ruike is fast, efficient, the patient's psychological feeling is good, and the indications are wide. He thinks that it can reduce the error of mould making. The case model brought by Doctor Wu is a series of repair failures When all ceramic teeth were made, Dr. Wu was very satisfied with the results.
Family doctor online manuscript, reprint please indicate family doctor online; media cooperation please contact: 020-37617238